(blowjob)
My birthday marked the second anniversary of the mysterious appearance of
Farabundo de Los Ratos Libres
. My other rats barely made it to two years, but Farabundo's at least that old (she was young when we got her, but not a baby) and still going strong.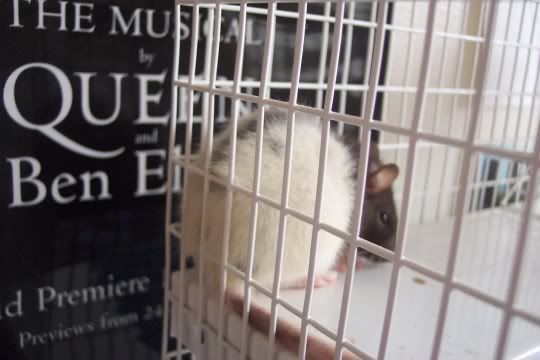 Bund, then known as Libre or Ninja (because of her mysterious nature and hood), the day after we discovered her under the couch.
The other thing was that I read two of my comics in front of my whole Creative Writing class with other helping me do all the parts.
My TA emailed me over Thanksgiving to tell me that she chose me to read to the class, but apparently I was chosen at random. But it turns out that in addition to that, the professor picked me to read
a dopey comic
I turned in to the whole class.
On Monday, I came to class and saw "KANE LYNCH" written on the projected powerpoint in huge letters. The teacher called me up and I hastily convinced Jamie to help me read the male parts and Julie to do the girl parts.
It went over wonderfully. Everybody laughed at everything (though especially the word "fag") and when I sat back down I felt pretty awesome.
On Wednesday, I was to read again and decided on doing "
The 14th Saying
", the short Quamran spin-off story that I wrote and Nikki drew.
Ahoo, another girl from my section, played Mala-Ke, the main character, while Julie played the bitchy girl and Dana-Min (the female cleric) and I played Alken the technician and Ret-Milan (the male cleric).
I thought we did a pretty decent job. Ahoo pronounced all the names fine, and captured the character's bitterness, Julie played both a bitch and a holy women well, and while I stuttered when I first started talking, I actually think it helped, since it made Alken sound different than the smoother Ret-Milan.
But the thing is...
The reaction wasn't awful. Everyone was polite and supportive, and one guy asked to see my paper copy afterward so he could look at it more.
But it got vastly less reaction than the (much shittier) comic we did on Monday, and much less than the guy who followed me, who won the crowd over by saying "blowjob".
Some people did some really awesome stuff (my TA read some of her unpublished novel, which was very neat), but nothing got as much reaction as the "blowjob" guy.
What does that say about us?
...
Still, it was a very neat thing that we got to do, and it was really cool of both our teacher and my TA to be so accomdating to my kind of weird idea. We're certainly not the first people to perform a comic (I remember hearing about
David "Feminist-Homosexualist Axis" Sim
doing one like a year ago), but I think it's something that should be explored further. Maybe.